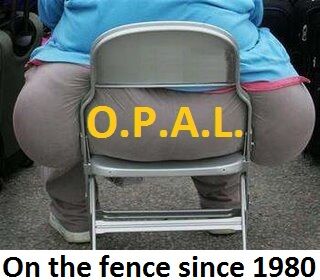 OPAL, in the context of the Thomas Covenant fandom, is not a hydrated amorphous form of silica, but a Linden-related popularity group acronymed from Opinion Pending about Linden.
The members of OPAL neither spatter her every footstep with kisses nor find the greatest satisfaction of their lives in nattering about her whininess in every other sentence. They mainly bide their time to see whether the anti-heroine proves worthy or not...and perhaps dillydally to infinity and beyond as well, considering that The Last Dark is out and one ought to have formed an opinion of some kind on this disputed character by now.
Be that as it may, it is undeniably a fact that, in sitting so firmly and immovably upon the fence, members of OPAL demonstrate with the utmost clarity exactly why the human butt is shaped the way that it is.