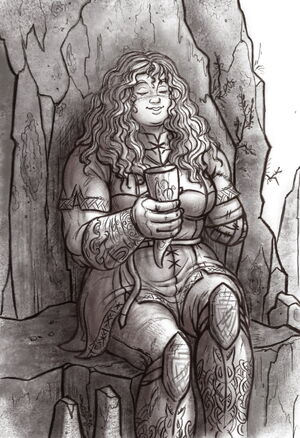 Cirrus ('lock of blonde hair') Kindwind is a Swordmain. This mild-tempered and empathetic Giantess does not hesitate to impale a couple of hundred Landish enemies with her 10-foot granite longsword, should they threaten Linden and her companions. She might have lost her right arm to a skurj, but that does not hinder her either from working as Mahrtiir's personal draughtgiant, or as noted above, kindly and gently kicking in the skulls of some Cavewights.
According to a fan theory, her second name might have meant that she enjoyed eating beans and cabbage a tad too much, and thus produced some musical wind. This was denied by the author himself.
Role in The Last Dark
[
]
// SPOILERS //
Akin to Foamfollower and Pitchwife, Kindwind becomes, at least partially, a mediator for a main character's internal struggles. This time the fretter is Jeremiah, a young man brimming with the hormonal oomph and whiny angst of adolescence.
(tba)
Kindwind dies in the bowels of Lord Foul's demesne, stabbed through the eye by a Cavewight spear.